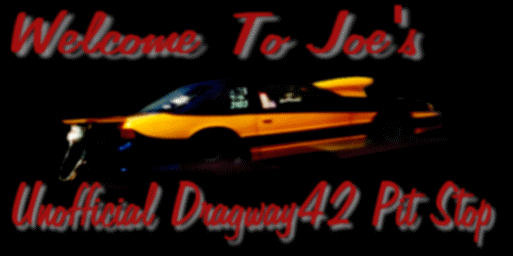 News Flash!!!
Banquet Time !!
Please check out the Banquet page for details. Don't miss
out on the fun. You will have good food, see good friends and
get to cheer for the champs from 2000.
I will still be adding things to this site, so keep stopping back.
I will have a lot more time to go thru all the pictures. Also,
as soon as the 2001 schedule is completed, I will post it here.
Thanks for all the support and great comments about the page!


Hope you like the page. I happen to love Drag Racing.
You can find me every week at Dragway 42.
The whole crowd there is just great, so I decided to dedicate this page
to my family and racing buddies. Hope you get some fun out of looking
at it. You can leave me a message or even a question by using the message
board. Come on use it .. promise it isn't hard..
You can roll along thru my site by using the links at the left. Hey! all of
the racers looking at this page.. sign my guest book.. darn it!
Well in fact would like you all to use the guest book or message board.
Thanks for taking the time to do it.
If you have any ideas for making this site better you can email me
I love new ideas!!


This site was created, is updated and maintained
by my mom, Sue. So be nice!!!
Please take the time to sign my guest book. Thanks!
Sign My Guestbook

View My Guestbook <